​
Admissions Criteria
Wellington College International Hangzhou is a selective school which, in line with our holistic educational philosophy, aims to admit boys and girls with a wide range of skills and capabilities including those who can demonstrate academic ability, an enthusiasm for arts, music, sports and service.
In line with the admissions regulations for international schools in China, Wellington College International Hangzhou can only accept applications for pupils who meet certain criteria:
The child holds a foreign passport
The child holds a valid foreign permanent residency (green card)
The child holds Hong Kong, Taiwan, or Macau residency

There are other circumstances in which a child may be eligible, such as a parent holding a foreign passport or valid foreign permanent residency (green card).
In certain cases, approval from the Hangzhou Education Bureau is required before a pupil can be admitted. To check if your child is eligible for admissions, please contact the Admissions team directly via the contact information provided below.
TEL:(+86-571) 8239 6366
Email: admissions.wcih@wellingtoncollege.cn
Admissions Process
We use OpenApply admissions management to ensure that the admissions process is as smooth, friendly and easy as possible. Our admissions process consists of four clear steps.
Comments: please show the four steps below as separate drop downs (Step 1, Step 2, Step 3 and Step 4) as green sections below to keep the text to a minimum
We encourage all parents applying to our school to visit the campus for a short tour and introduction to the College. This gives us a valuable opportunity to get to know our community members more, and allows parents to gain a deeper insight into Wellington Values and Identity, our vision and mission, and our commitment to a holistic education. If you are unable to attend in person, due to researching the College from abroad, we can arrange a Skype chat, telephone introduction, or a tour once you arrive in Hangzhou.
Submit an application and create an OpenApply parent account by clicking " Apply now".
​​
If you have already created an OpenApply account: Log back into the OpenApply account you created by clicking "Parent Portal Login"
Once you have submitted an application, the next step is to submit all of the required documents. A checklist of required documents can be found in your OpenApply parent account. Details of fees required are available in the OpenApply portal.
Once you have completed the previous steps, a member of the Admissions team will assist you with the rest of the enrolment process, including any required admissions assessments. Details of the admissions assessments we require can be found in the Applying to Wellington booklet.
If at any stage in this process you require assistance, please do not hesitate to contact our Admissions Department on (+86-571) 8239-6366 or via email at admissions.wcih@wellingtoncollege.cn
Guide to Year Groups
The chart below provides an overview of the Year Groups at Wellington College International Hangzhou, and the age equivalents for other established international education systems;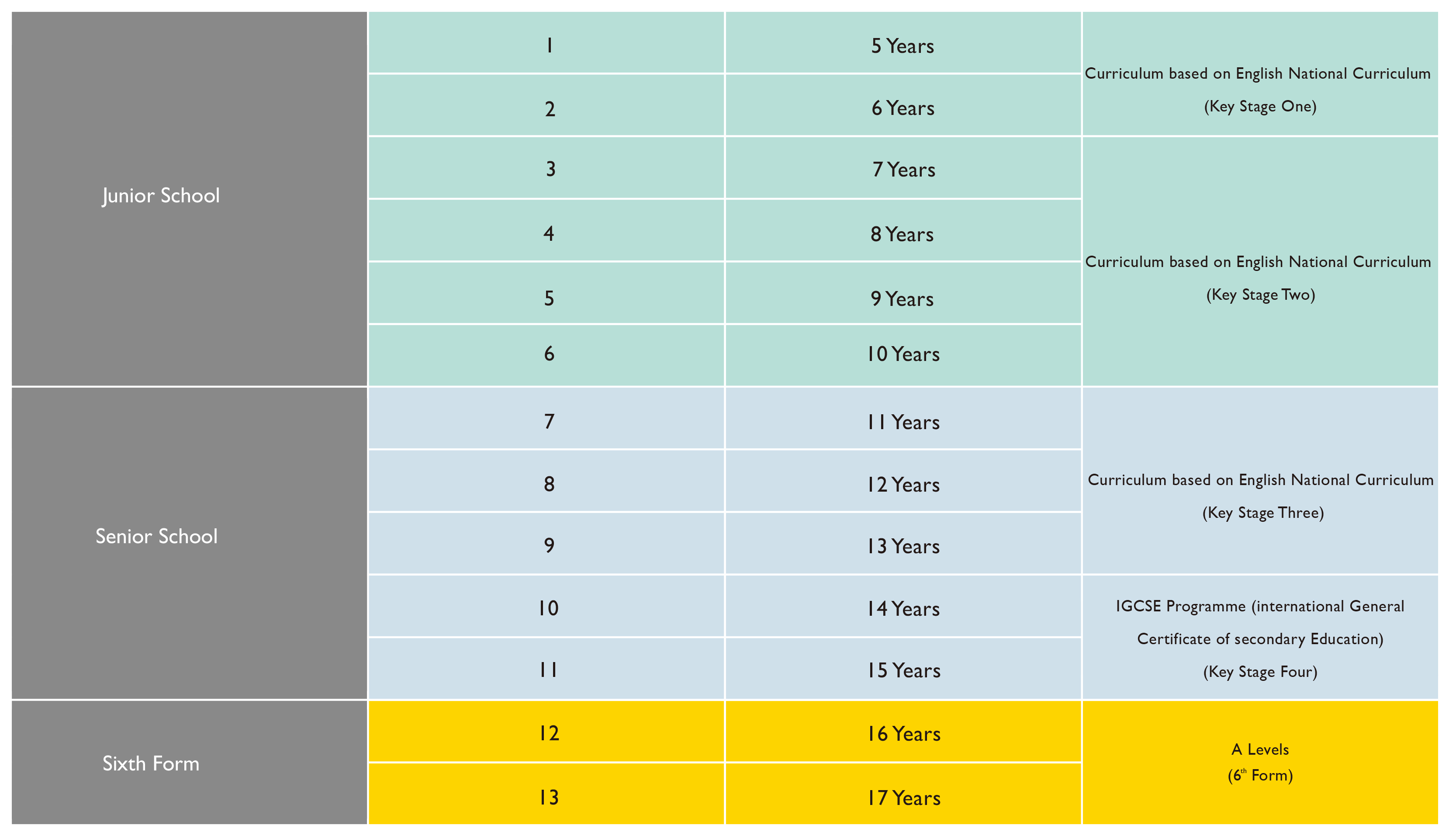 ​
​​
​
​​​
​
​​
​
​​​​
​
​​
​
​​​
​
​​
​
​​​​​