Catering is provided by Sodexo Group, who serves more than 50 international schools all over Greater China as the market leader. Clients include both Chinese and International Top 500 companies which are located in more than 20 cities in Greater China employing more than 3,000 people.
Daily meal
Lunch
Noodle set
Teppanyaki Set
Asian Set
Western Set
Daily Special Set
Boarding breakfast
Western snack option
Chinese snack option
Noodle and Congee Option
Boarding dinner
Western Set
Asian Set
Daily Special Set
Noodle set
Meal price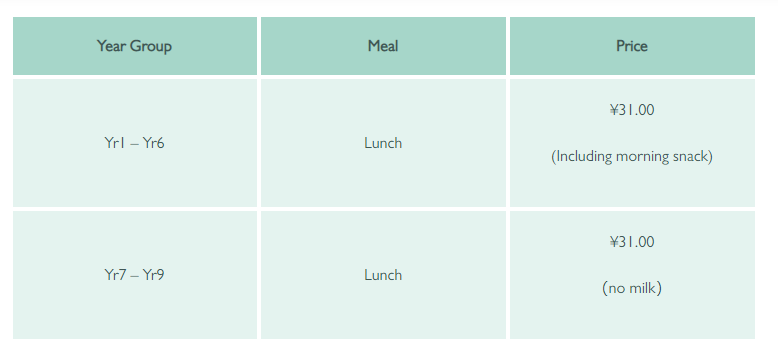 WeChat top up
The lunch fee can be paid by ID card, which can be topped up from the Sodexo online and on-site. The online channel will be opened 24 hours every day from WeChat. The on-site top up station is open in the school days. More details will be provided later by Sodexo. Sodexo will take charge of issuing invoices for the lunch fees / top-up fees to students or their parents, which will at most take 15 working days to process. Please contact onsite manager for invoice by calling 0571 8239 6398. Parents also can through Sodexo WeChat public service to apply for the invoice.
If there is any balance remained on the pupil's ID card at the end of the academic year, this will be carried forward to the next academic year.
Click here to download the Wellington College International Hangzhou WeChat top up guidance.
Food Committee
We will create a food committee that consists of parents and staff representatives. The food committee is there to offer all parties the chance to feedback directly to Sodexo and regular surveys will be taken and acted upon. Pupils also get an opportunity to provide feedback via the student council.
Members:
It is recommended that the food committee being composed of:
Bursar (Chair)
Parent Representatives (1 for HSH Primary, 1 for HSH Junior High, 1 for HNH, 1 for WCIH, and 1 for boarding)
Boarding Mistress
Academic Representatives (1 for HSH, 1 for HNH, 1 for WCIH)
Operations Manager
Service Specialist
Catering Provider Project Manager
Catering Provider On-site Manager
Work scope:
Food committee is committed to forge a proactive and dynamic group with shared goal of safeguarding the wellbeing of our pupils. The scope of food committee includes:
Organize food committee meeting once every semester to discuss any issues in terms of catering and review food report provided by catering vendor
Discuss the feedback gathered by parent representatives and form relevant action plans if any
Review the results of actions required from previous meeting and evaluate the results
Promote health dining for pupils at each stage
Review the necessity of arranging extra food committee meeting for any special reasons
Catering Policy
Click here to download the Wellington College International Hangzhou catering policy.
Menu
Click here to download the Wellington College International Hangzhou menu